Meat Share Week 22
---
This week your share contains

:
1lb pack cumberland sausage @$8.5/lb                                                                         $8.50
1 TapRoot pork shoulder or smoked ham steak @ $5.0/lb average weight 1.77lbs            $8.85
1 TapRoot farms stewing hen @$3.50/lb, average weight 2.65lbs                                   $9.28
1 lb package of no-nitrate TapRoot Bacon @7.5/lb                                                         $7.50
                                                                                                       Total value:          $34.13
---
Stewing hens must be slow cooked either in the slow cooker or in a big pot of soup. They would be a great candidate for coq au vin, a classic french stew that uses a coq (rooster) or stewing hen.
Here is a delicious looking recipe from 
lazysundaycooking.com.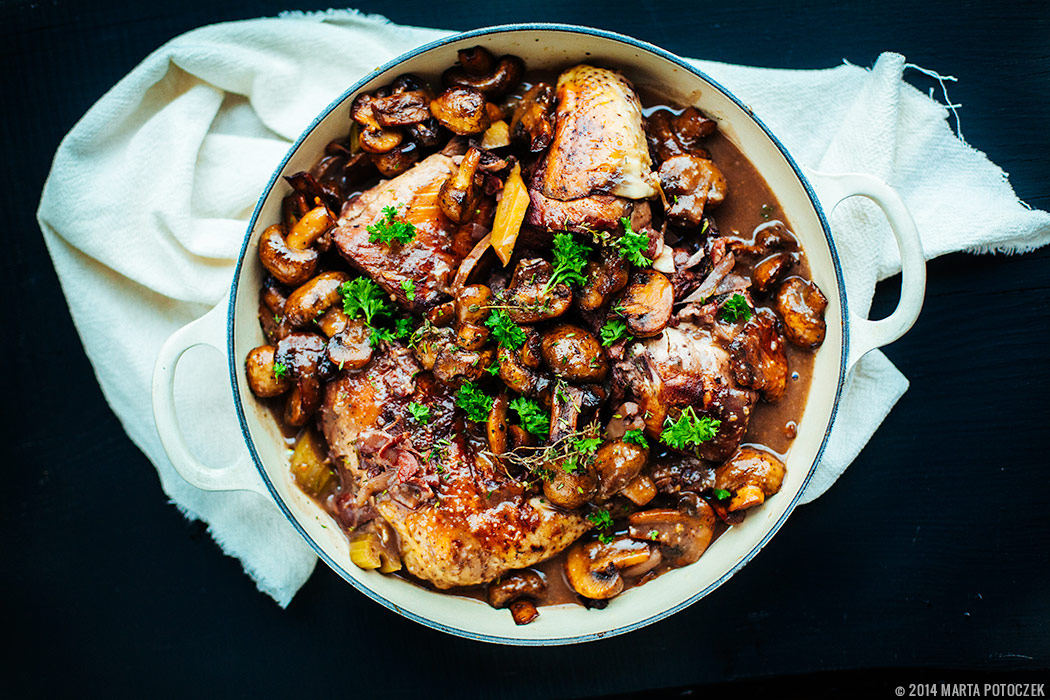 RECIPE – COQ AU VIN
one large organic chicken
1 bottle of red wine(I used Bordeaux) 
1 yellow onion
1 head of garlic
3 carrots(I used mix of yellow and purple)
2 sticks celery
100g bacon
1 cup chicken stock
bunch of fresh thyme
few dry mushrooms- I used Polish forrest mushrooms
250 g porcini mushrooms
salt, pepper
olive oil, butter for frying
2 T white flour
Cut the chicken into pieces- wings, breast, legs etc. Sprinkle them generously with salt and pepper. Chop the onion and crush the garlic. In a large bowl add chicken, onion, garlic and pour the whole bottle of wine over them. Marinade for a day in the fridge. Heat the olive oil in a large Dutch oven. Add the bacon and cook over medium heat for 8 to 10 minutes, until lightly browned. Remove the bacon to a plate with a slotted spoon.
Pat the chicken dry, reserve the wine with onion and garlic. Brown the chicken on both sides in olive oil with a knob of butter.Put in a dutch oven. Add carrots, celery, dry mushrooms and bacon. Pour stock and reserved wine. Cook for about 1 hour in 200C/392F.
After that time, take the chicken out, keep in a warm place. On another pan fry porcini mushrooms in butter for about 15 minutes. Add salt and pepper at the end of cooking. In a meantime reduce sauce from the chicken for 10 minutes. In another pan add 2 T of butter and 2 T of flour. Fry for a minute. Add few tablespoons of the sauce, mix, add another few tablespoons. Add to the pan with the sauce and stir to combine and thicken. Add chicken back in. Cook for a few minutes. Add mushrooms. Serve with mashed potatoes.
Storms have been keeping us very busy, I've been spending a lot of time clearing snow and chipping ice out of water containers.
The pigs out on pastures are real troopers, they have made a network of trails through the deep snow, and the pigs walk around this network single file. Very rarely does a pig veer from the path, and if the lead pig decides to stop then they all stop.
The hens are enjoying a lot of scrap cabbage these days. For some reason when they eat purple cabbage, it turns their poo to green!
---
Thank you very much, and we hope you have a warm week, without too much shoveling.